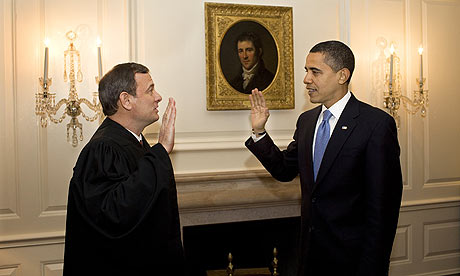 At the risk of throwing cold water on things, is there a chance that the
whole issue of the fluffed oath
at Barack Obama's inauguration, and the subsequent rerun in the White House, has been slightly overplayed?
Could it be that a desire for a story (as if there weren't enough of those around on the day the first black US president was sworn in) has made something out of nothing, even leading to Obama having to take a couple of minutes out from his first day on the job to retake the oath (talk about having enough to be getting on with). After it all, it seems to have been
Fox news that started
the "debate" over whether he was legally president in light of the fluffed oath.
And now that Obama has taken it properly, we have a new debate over the implications of there being
no Bible involved
the second time around. We've had
atheist bloggers claiming
it shows the lack of emphasis the new president places on religion, while
opponents argue
it could damage his relationship with religious Americans.
But let's face it, the lack of a Bible doesn't really demonstrate that much, does it? The official word from the administration is that there wasn't a Bible at hand and, to be honest, the last thing likely to have been on Obama's mind as he set about cleaning up after the Bush presidency would have been sending a subtle message about religion by deliberately forgoing the use of a Bible while taking the second oath. Although,
as the Heresiarch points out
in some measured analysis, it seems unlikely this would have happened in the Bush White House.
We know that Obama is a Christian, however much fervent atheists and evangelical Christians on both sides would like to argue to the contrary. But we've also seen major signs that he's a moderate, tolerant Christian, who seems determined not to let religion be a divisive issue in America. With that in mind, far more important than the lack of a Bible at the second swearing-in was this
nod to atheists
in his inaugural address:
"For we know that our patchwork heritage is a strength, not a weakness. We are a nation of Chris tians and Muslims, Jews and Hindus - and non-believers. We are shaped by every language and culture, drawn from every end of this Earth; and because we have tasted the bitter swill of civil war and segregation, and emerged from that dark chapter stronger and more united, we cannot help but believe that the old hatreds shall someday pass; that the lines of tribe shall soon dissolve; that as the world grows smaller, our common humanity shall reveal itself; and that America must play its role in ushering in a new era of peace."
Now that
definitely
wouldn't have happened under Bush.